Gosh it seems like forever since I've posted a project.  Life is busy with two very active boys (sports, school, play).  Busy with little time do a lot of crafting projects but rest assured one day they will be grown up and I will have more time to have play for me.  You can follow my everyday rambles on Instagram through my pictures of this and that.  I would be happy to follow  you too.
My sweet friend recently had her wisdom teeth removed and the day of her surgery I put together this care package for her to enjoy for the days to follow.  I thought it would be a fun idea to share what I did with my readers.  🙂
Care packages can be fun to put together.  They can also be as expensive as you choose them to be.
I made a trip to my local Dollar Tree and went on a search for soft food items and comforting, cozy stuff to fill my basket with.  Having my wisdom teeth removed myself I can clearly remember the pain, discomfort and overall relief once I was healed.  My hope is that these little items will bring my friend some comfort during the days after her surgery.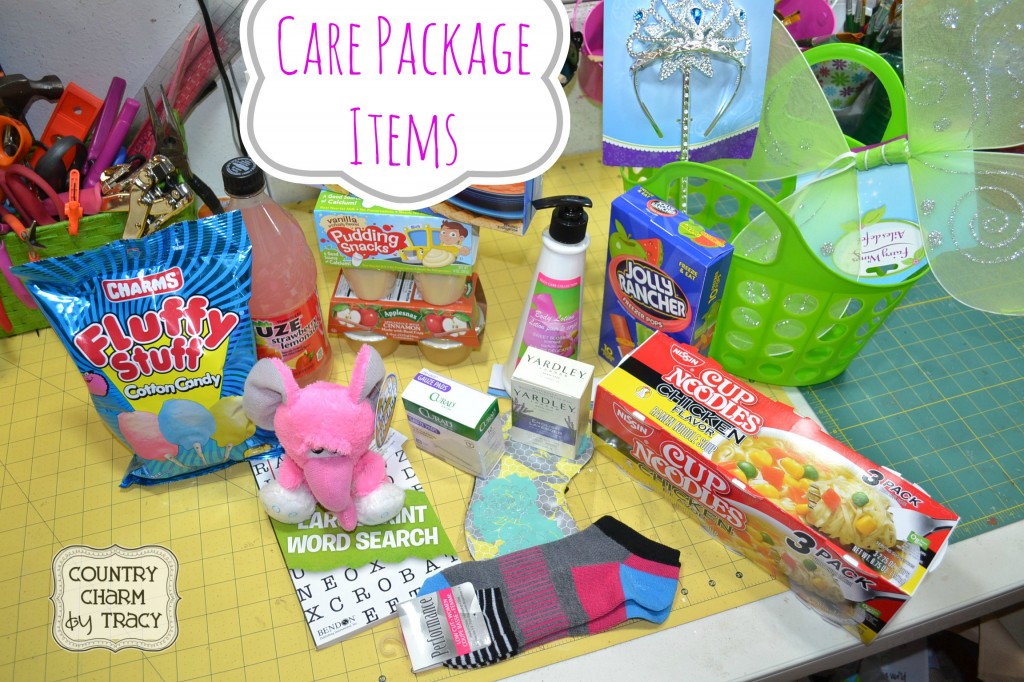 When putting a care package together there are so many options of what to include.  This is where cost needs to be taken into account.  Dollar Tree has some cool items that are appropriate for so many occasions and events.  Being that she will have her wisdom teeth removed I needed soft and comforting items.  Dollar Tree did not disappoint.  🙂
The basket size needs to be taken into consideration because this will determine how many items, size, quantity and things you can put inside.  I chose the green basket with handles.
Here are the items I put in the basket.  cotton candy, pudding, applesauce, hand lotion, ice pops, word search book, gauze, lavender soap, eye mask, soup, socks and an adorable pink elephant (everyone needs a soft comforting friend, right?).  I also found the fairy wings, tiara and wand and thought my friend would get a giggle out of these sweet items.  I couldn't get the strawberry lemonade bottle inside the basket as it was too bulky so I will save that for another day.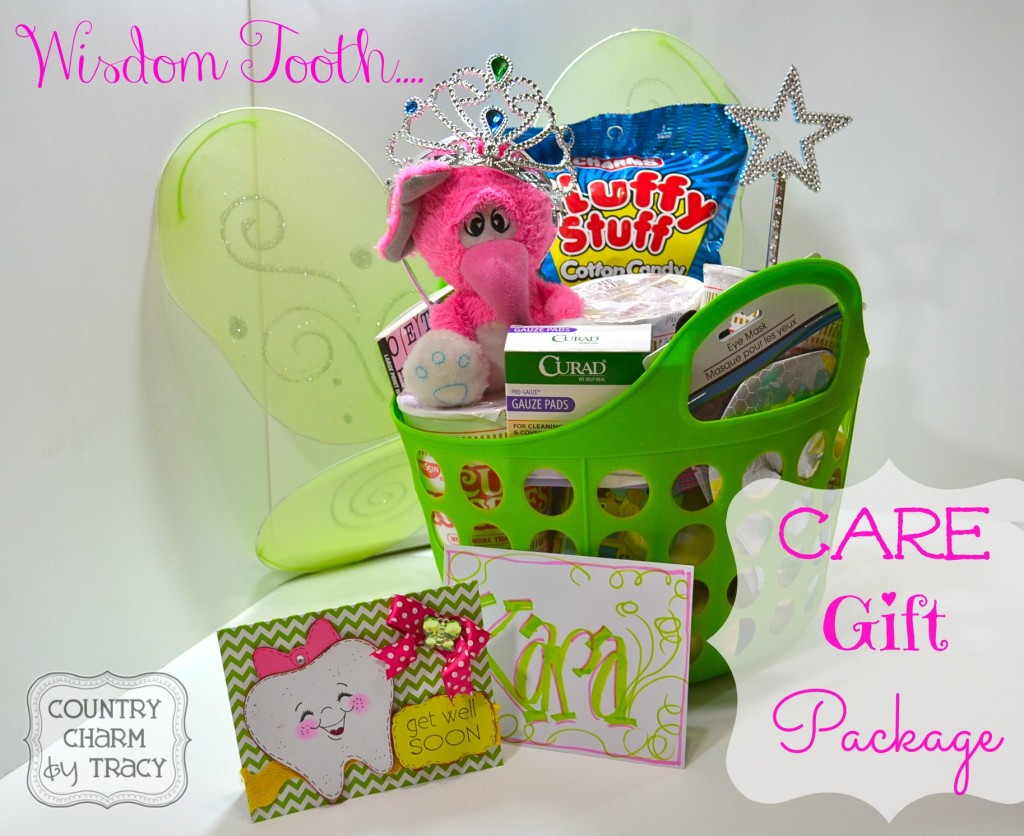 For the card I created this using my Cricut Expression 2 and the Baby Steps cartridge for the tooth.
I just cut the bottom layer (pink) and top layer (white).
The sweet face is from Peachy Keen Stamps – Happy Lashes collection.
pink chalk for cheeks, brown ink for edges, black marker for doodling around tooth and sentiment
"Get Well Soon" stamp – Spectacular Sayings by My Pink Stamper
ribbon, ric rack and bling finishes off this cutesy thing!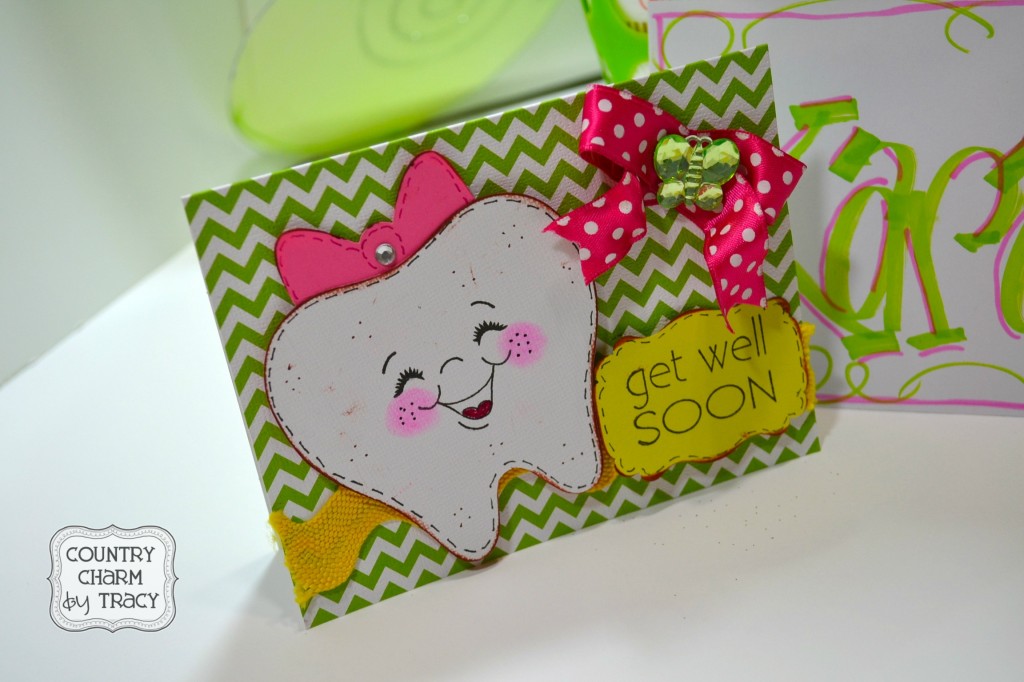 Here is a side view of the fairy wings — makes a fun addition to the gift…..(I think so).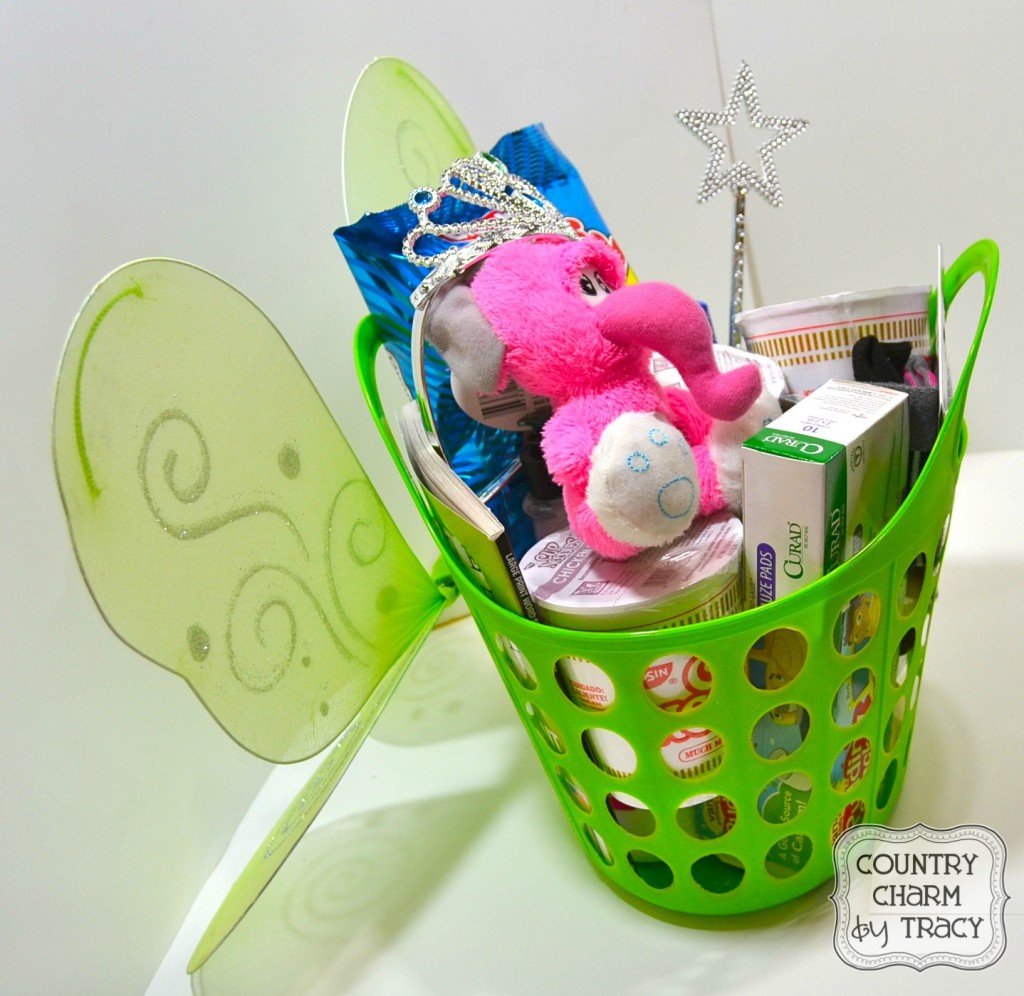 Sign up below to be notified when I put a new blog post up. It'll be delivered directly to your email box. 🙂