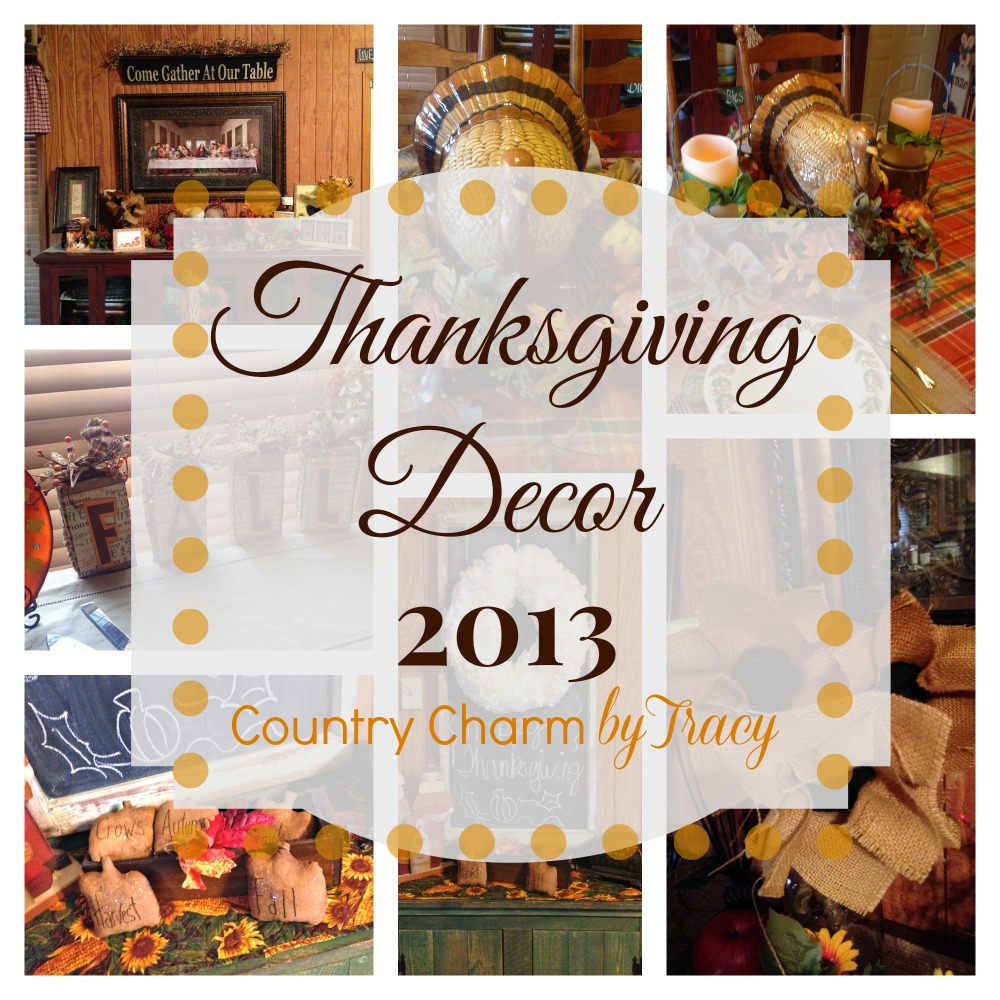 Fall is my favorite and I love Thanksgiving.  It is one of my favorite holidays of the year.
I get a lot of inspiration from browsing around the web and so I wanted to share some of my decorating ideas this year.  Simple and very primitive country.  Just like me.  🙂
This is one of my side tables.
The chalkboard is an old window frame.
The coffee filter wreath is the one I made in 2012 and it holding up rather nicely.  Click here for the tutorial.
I purchased the pilgrim family/turkey from a craft shop years ago. The grungy pumpkins bowl fillers are stuck inside an old drawer (that is after my hubby's grandmother).   It is slim and perfect for holding pip berries, bowl fillers and other little decor I stick in there.
My home is very primitive country so I l.o.v.e. bowl fillers.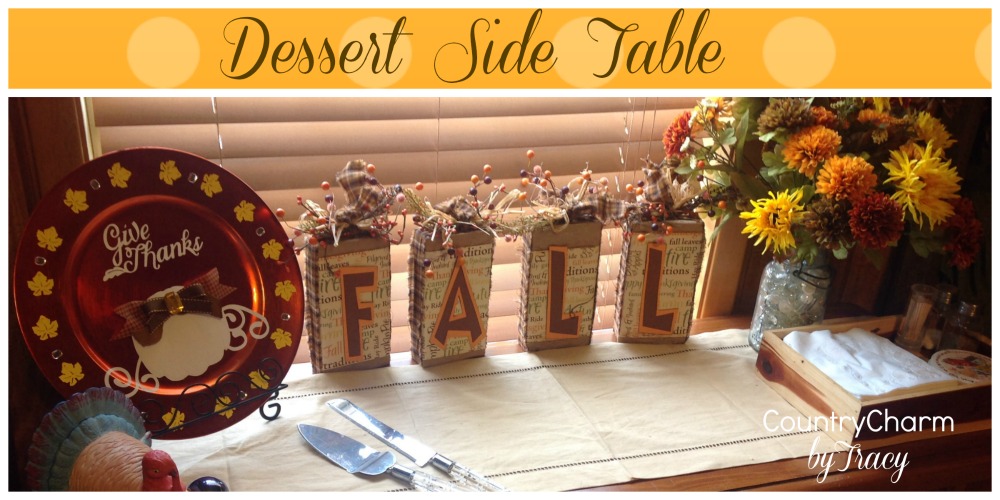 On this table we put my mother in law's fabulous pecan cream cheese pie, brownie cookies and scrumptious fruit salad.  I snapped these photos before she arrived.
The Give Thanks Charger Decor tutorial can be found  here.
The FALL boxes (recycled cricut cartridge boxes) tutorial is found here.
The flower arrangement is a glass mason jar with the wire around the mouth.  I filled it with glass beads (from the Dollar Store) and inserted 4 bushes of fall flowers (I got the flowers from Michael's)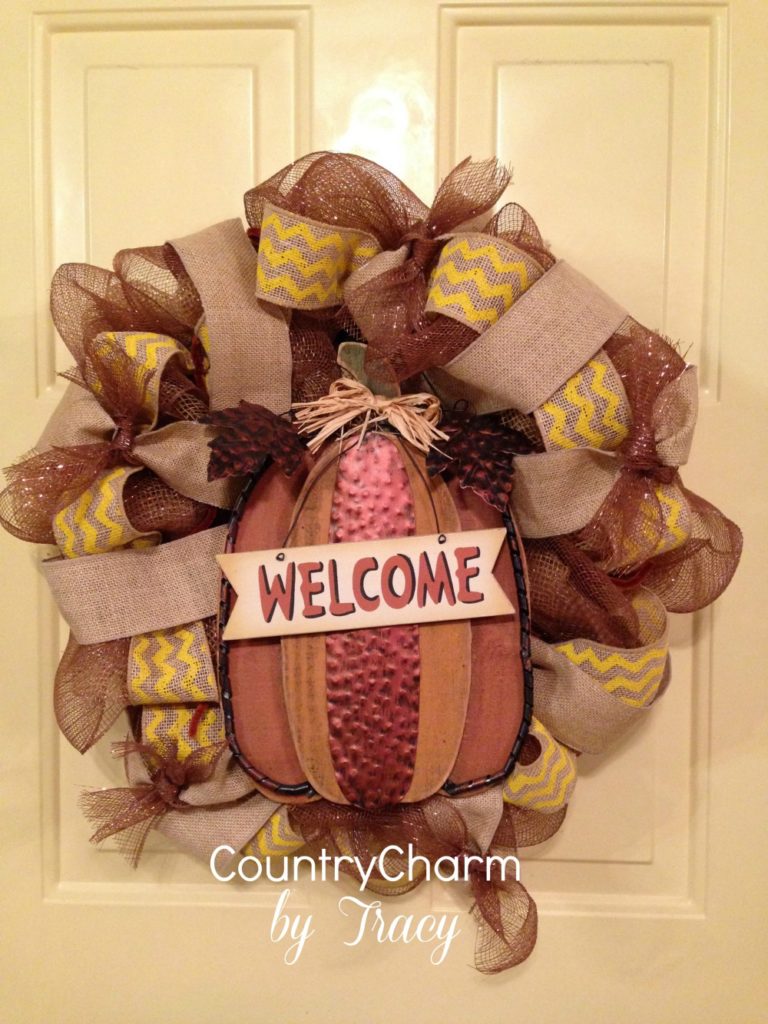 These Deco Mesh wreaths are very popular and trendy right now.  You can see them all over the web, pinterest, ebay, etsy and facebook.
I created this one with more neutral colors to match my home and have it hanging on the back of my front door. This door is metal so I have a metal wreath hanger that is holding my wreath on the door.  The pumpkin is on a hanger on it's own (not attached to the wreath) and I just struck it on the inside as a temporary decor item.  Last month I had my halloween decor stuck in this wreath so I think I may change the center of the wreath for different seasons.  Works beautifully.
On to my table…..
The decorative turkey (in the center) is something my mother in law gave me about 15 years ago.  It is one of my favorite decor pieces for my Thanksgiving decorating.
My fabulous MIL made me these burlap placemats this year too.  I'm a lucky girl.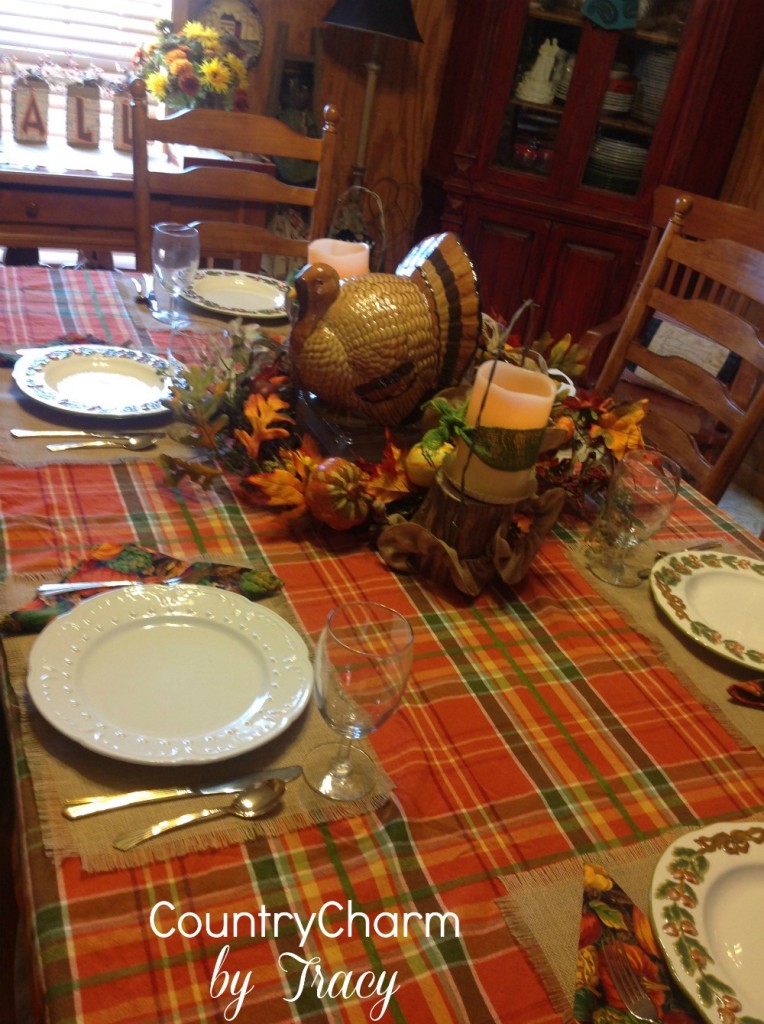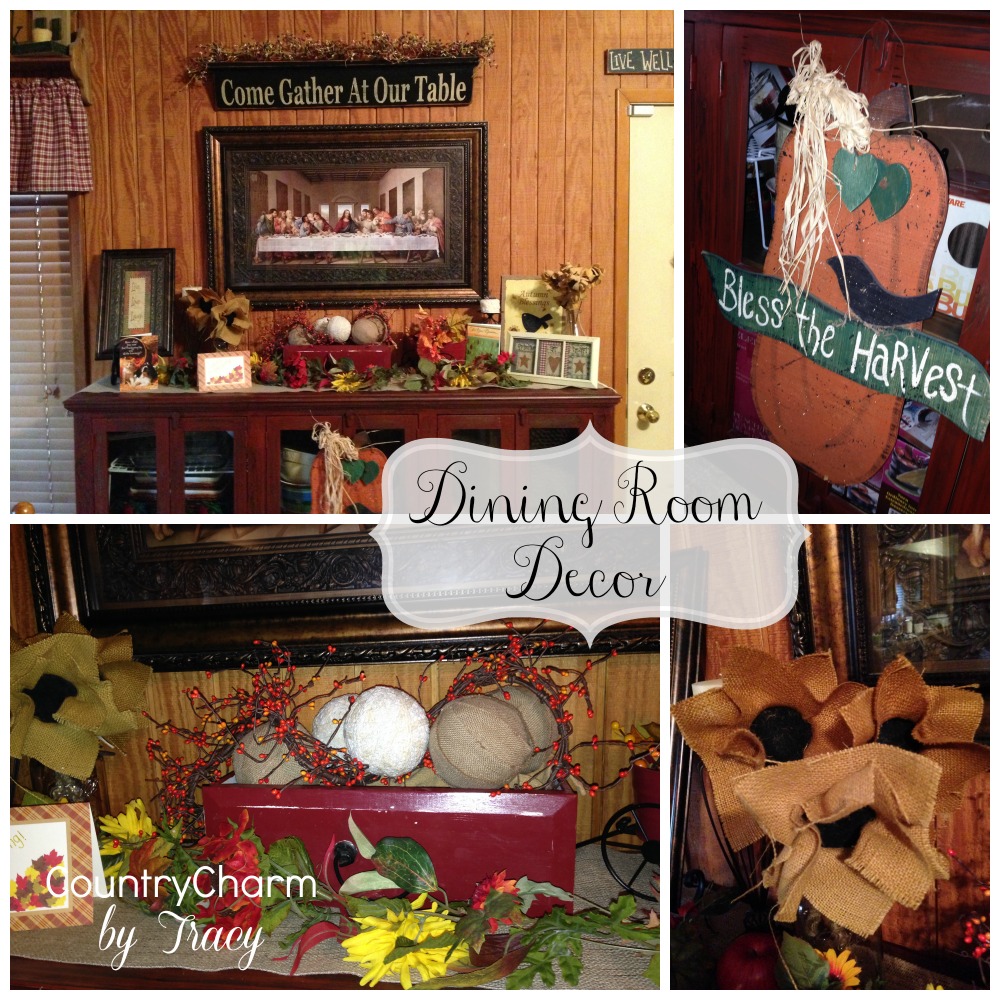 This drawer decor piece is holding burlap balls, yarn balls, pip berries.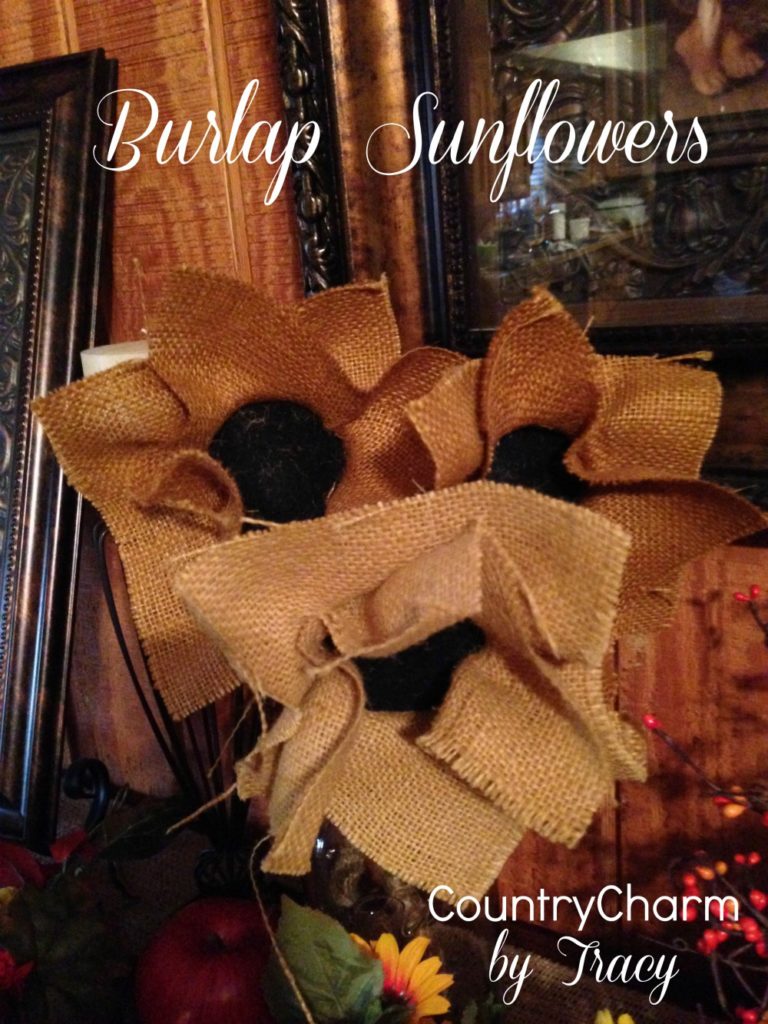 I purchased these burlap sunflowers at the country creations booth at the county fair this past year.  I bought them as a pattern with the intent to make some more but just never got around to it.  They are super cute!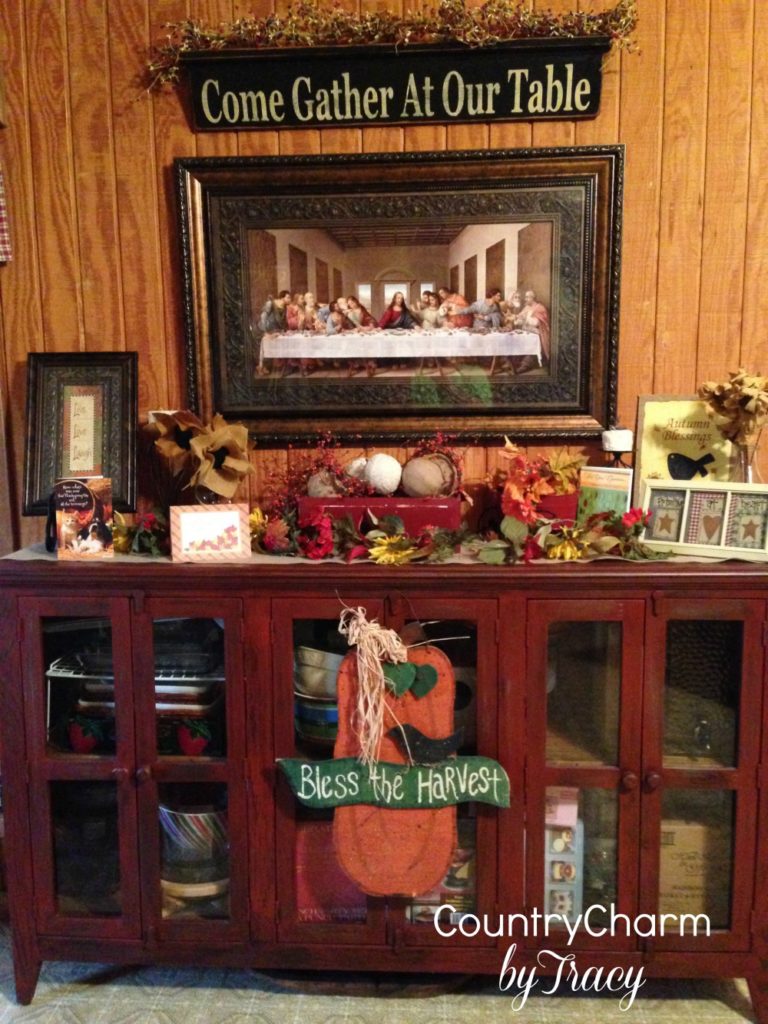 Here is a picture of the entire cabinet in my dining room.
Okey dokey!
Well that's all folks.  Very simple and a lot of primitive country decor for me.
Hugs,
Tracy
Sign up below to be notified when I put a new blog post up. It'll be delivered directly to your email box. 🙂