This post does include affiliate links. All opinions are 100% mine alone. Read my full disclosure here.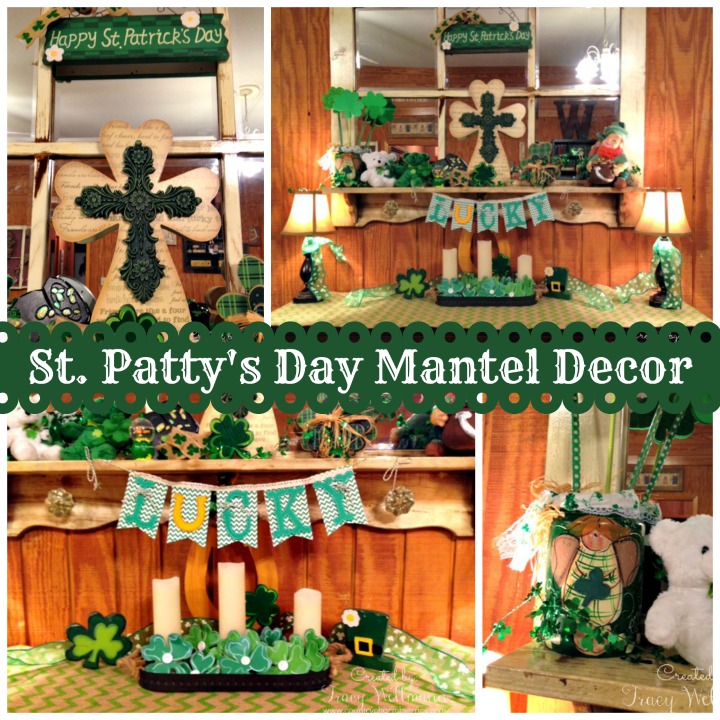 This is my little spot in my home where I've been decorating for the seasons.
♥ I love changing it out to celebrate! ♥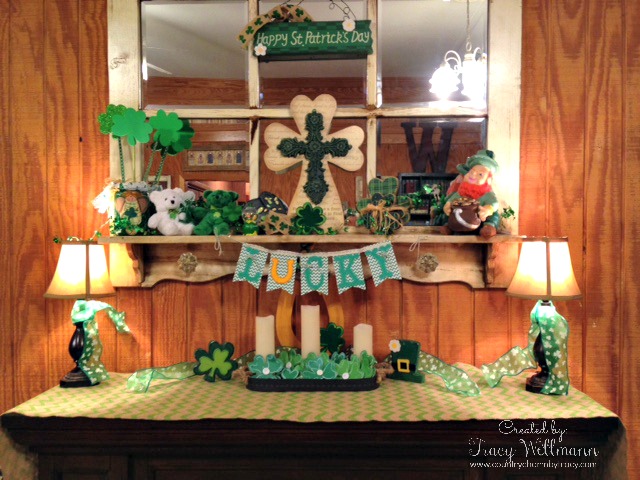 ♣ Here is an overview of this year's set up.  It's a collection of items purchased from the stores as well as a few hand painted and handmade items.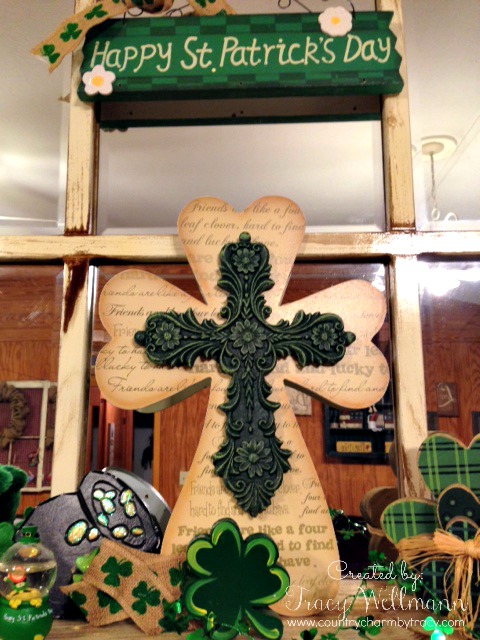 ♣ This cross was purchased at Hobby Lobby and the clovers are hand painted.
♣ The St. Patrick's Day sign was purchased at Hobby Lobby also but it had three wooden shapes hanging from the bottom.  I took it apart to use them all separately as you can see in the other pictures.
♣ The black pot of gold on the shelf, hat and shamrock sitting on top my fireplace.
 ♣ I love the pieces so much more than all hanging together.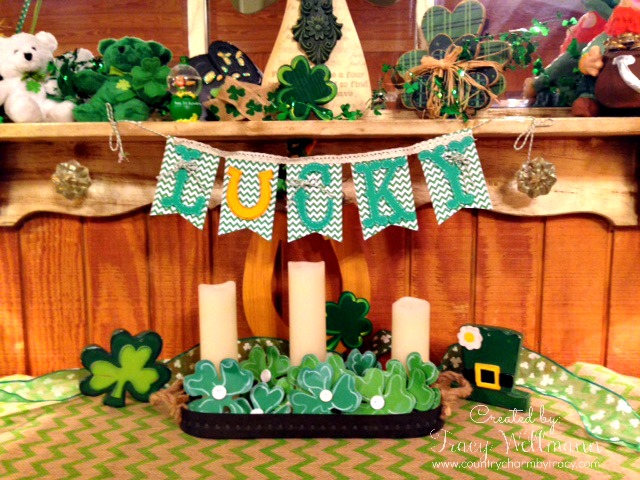 ♣ The "lucky" banner was created using notecards from Hobby Lobby.  I just cut in a couple in half and shaped the bottom into a v.
♣ I cut the letters and horseshoe (for the U) on my Cricut die cutting machine and used twine to string together.  I added lace ribbon to the top for an added touch.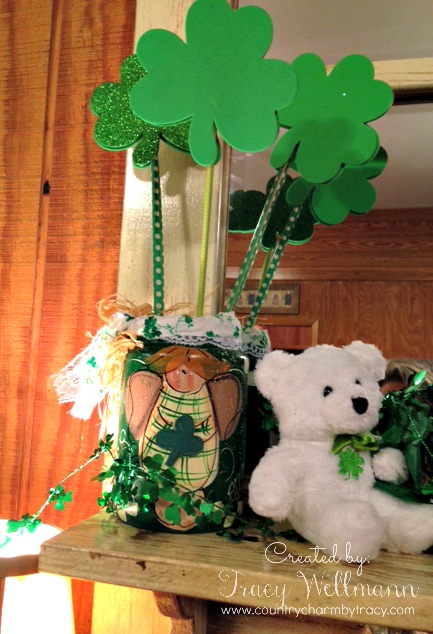 ♣ I hand painted this shamrock angel jar back in 2004.  (I only remembered because I have it written on the bottom :))
♣ For the shamrocks on the inside of the jar I used purchased foam shapes and glued them to wooden skewers wrapped in washi tape.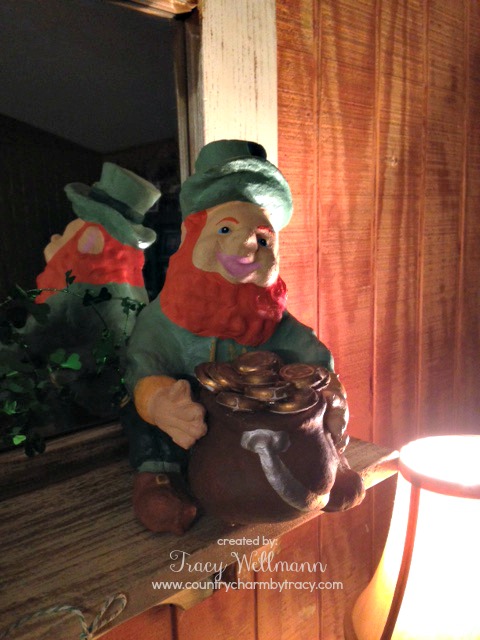 ♣ This little guy has been with me for many years.  I purchased him at Hobby Lobby a long time ago.  He's made of paper mache and I just love his adorable little smile.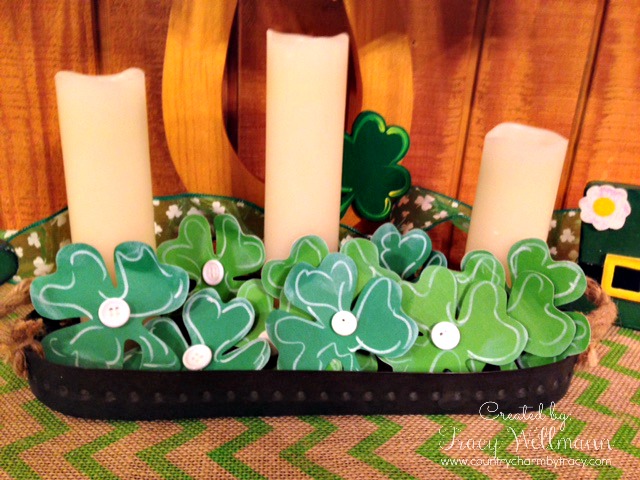 ♣ This little collection is a display of "using what you have".  🙂
♣ I cut these paper shamrocks on my Cricut , added character using a white Galaxy marker, inking the edges  with white ink and added a white button in the center. I bent up the edges to give shape.
♣ The tray  and green/burlap chevron runner was purchased from Pick Your Plum during one of their daily deals. ♥♥♥ Pick Your Plum!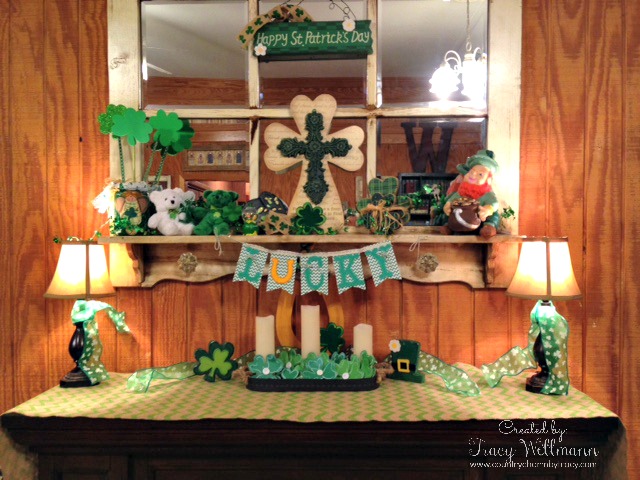 Well here you have my St. Patty's Day decor for 2015. ♥♣♥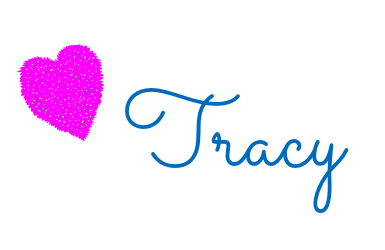 Click here if you're interested in seeing some of my other Mantel decor.
Sharing with some of these Linky Parties here.
Other fun St. Patty's Day projects I've shared…..
This post was first viewed on Country Charm by Tracy
Sign up below to be notified when I put a new blog post up. It'll be delivered directly to your email box. 🙂