I am totally in love with how my Wood Easter Blocks turned out – see those here that I made another set to spell out Spring.  These trendy blocks with messages are very popular right now….in crafting and home decorating.   I love how versatile these block sayings and phrases can be.  Depending on your supplies – the only limit is your imagination.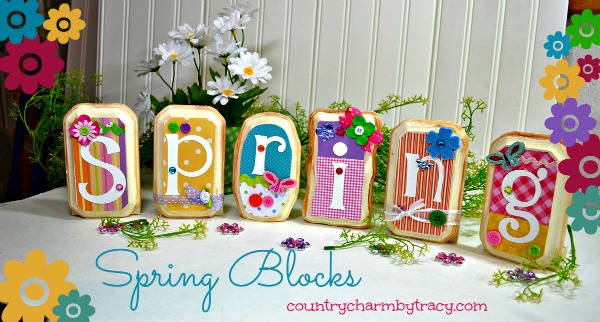 Supplies:
– mini wood plaques
– paint
– scrapbook paper
– embellishments (buttons, ribbon, ric rack, flowers, bling)
– wood glue
1. To start I painted each mini wood plaque an ivory color. Shading the edges with watered down brown paint.
2. I used tracing paper to make a pattern of each middle of the plaque and then transferred that onto scrapbook paper and cut out the shapes. I then glued the paper onto each plaque with the wood glue.  Use a squeegee or brayer to get any bubbles or extra glue off that may seep out the edges.
3.  The letters are cut from Alphalicious cricut cartridge.  I used my Gypsy to design the letters and made some a little smaller, longer or stretched out.  I then cut everything on my Cricut.  I used glue and mod podge to attach to blocks.
4. I had my hubby cut small blocks of wood that I attached to the back of each plaque that would make it sit evenly.  I attached the blocks with wood glue.
5.  I then embellished each block by adding bling, ribbon, flowers, buttons, ric rack etc.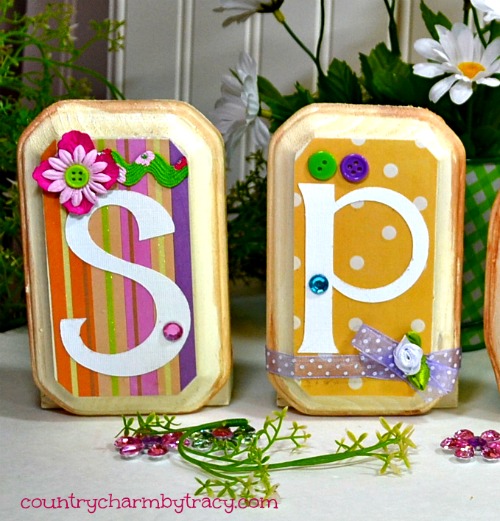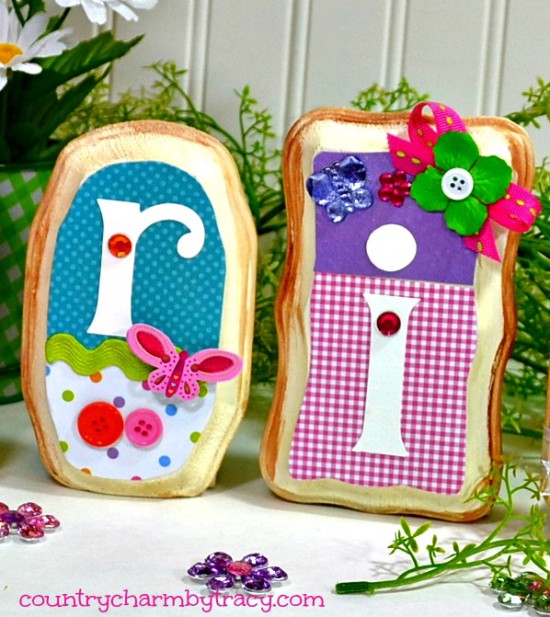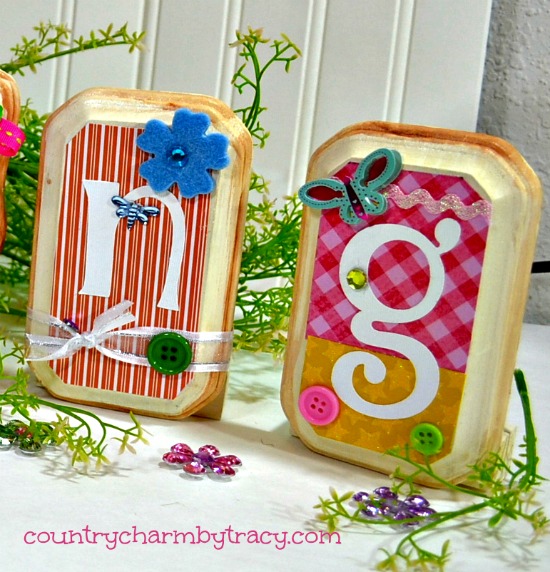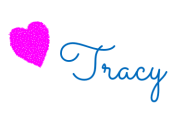 Subscribe to my newsletter here.
This post was first seen on CountryCharmbyTracy
Sign up below to be notified when I put a new blog post up. It'll be delivered directly to your email box. 🙂