I love to cook soup more in the fall/winter season than any other.  Here is a recipe for a simple Taco Soup that can be made up in about an hour or put in a crock pot and let it cook on low until you're ready to eat it.  Double or triple the ingredients to make a larger quantity to share with a neighbor or freeze for another meal.  Enjoy!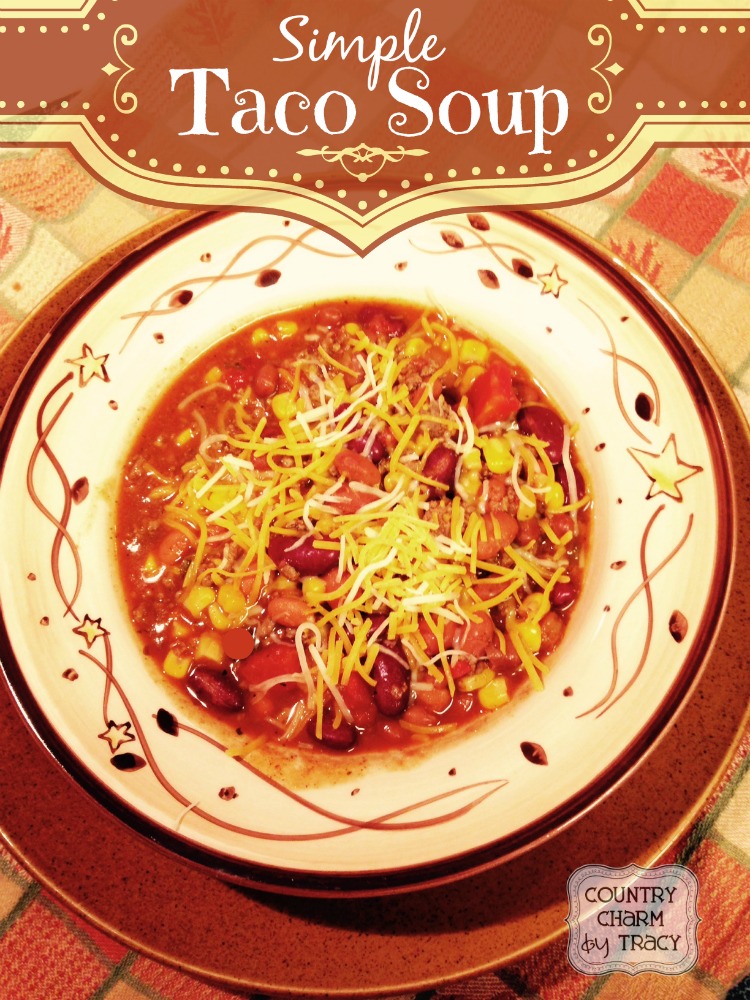 Simple Taco Soup
Simple Taco Soup that can be made in less than an hour.
Ingredients
2 lbs. ground beef
chopped onion
minced garlic
1 can (15 oz) chili beans, undrained
1 can (16 oz) pinto beans, rinsed and drained
1 can (15 oz) kidney beans, drained
1 can (15.25 oz) whole kernel corn, drained
1 can (14.50 oz) stewed tomatoes
1 can (10 oz) diced tomatoes with green chili's
1 can (15 oz) tomato sauce
1 pkg. taco seasoning
1 pkg. ranch dressing mix
1½ cups water
grated cheddar cheese
tortilla chips
Instructions
In dutch oven or large pot brown ground beef with chopped onion and minced garlic. Drain on plate with paper towel. Return to pot and add the pkg. of taco seasoning and water. Mix well. Over medium heat let the soup begin to get hot. Add all other ingredients. Continue to cook on low or simmer for about 15-20 minutes or until heated through. Serve with grated cheese and tortilla chips.
May be transferred to crock pot on low for a few hours or until ready to serve.
Sign up below to be notified when I put a new blog post up. It'll be delivered directly to your email box. 🙂