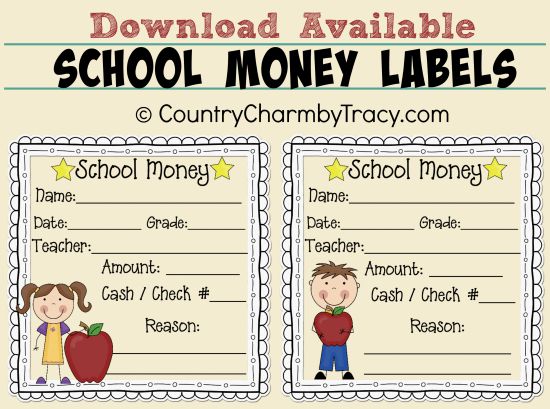 I am all about convenience. I mean I like things to be neat and organized but most of the time fail miserably. How I want them in my head sometimes doesn't agree with the way my family sees things. Can anyone else relate?
A few years ago I included some of these school money labels as part of my Back to School series year 2012. To this day this simple task has become one of my favorite things for sending money in Spencer's backpack for school things.
The one that I liked was no longer available so I decided to create my own. I made it to fit my needs and if you like it you can have it too.
To save it just right click on the picture and save to your computer.
 Open up a word document and insert onto a blank page.
Resize the image to how big you want.
Right click, copy the image and paste on the same page multiple times to give you several on a sheet.
Or you can do like I did and put the image on Avery 5164 labels and ran through my printer giving me 6 labels with adhesive already on them.
You can download the pdf for personal use only
It will print on a 5164 label – 6 to a page
Boy –
Girl –
I am an affiliate of Scrappin' Doodles and the sweet kiddos are part of the School Stick Kids 2 Clip Art collection.
I stick the sticker on an envelope and put in Spencer's folder to send back to school. Perfect for money for field trips, lunches, book orders, fundraisers, etc.  All the information is right there on the label.
If you don't want to use labels just print out on plain paper, cut with scissors and slip paper inside a ziplock baggie.
Sign up below to be notified when I put a new blog post up. It'll be delivered directly to your email box. 🙂