Hi everyone!
Today I am super excited to be sharing a product review for the Desk Maid 4-Piece Organizer Set by Totally-Tiffany.com.  I receive requests every once in a while but only review products that I can use in my home and feel my readers and followers can benefit from.  View my full disclosure here.
This set is ready to use straight out of the boxes with no pieces to put together with the exception of sliding the drawers in the Pen and Ink Palace.  It's very light weight but sturdy enough to hold my crafting supplies without tumbling over.  Each piece has its own sticker placed on the bottom of it to easily identify the name of that piece.  Makes ordering and identifying a breeze.
All of the pieces of the Desk Maid Arts and Crafts 4 Piece Desk Organizer Set are also sold separately, so you can add whichever pieces you need to complete your organized space.
Being a crafter at heart I am always on the look out for organizing tools that help me in my craft room.  I am a girl of convenience and love things at my fingertips.  I absolutely hate looking for things and truly can relate to the "out of sight out of mind mentality".  This set makes organizing my area so fun and visible, ready to use when I am ready!  Order the 4-piece set or order each piece separately.  The website is super user friendly and very professional.
See my full video review below or watch on YouTube here.
Pencil Perch
–  organizes my paintbrushes easily so all I have to do is grab the size I need.
Tool Tower – organizes my 3-sizes of Sharpie markers where I can choose the size I need.  You know I LOVE my sharpie markers for doodling.
Pen and Ink Palace – organizes my small inks beautifully.  I love they are all compact in individual compartments and I can pull out the sliding drawer to quickly see what I have.
Stadium Arranger – organizes my ink pads perfectly so I can quickly see what I have and grab the one I need for a quick project.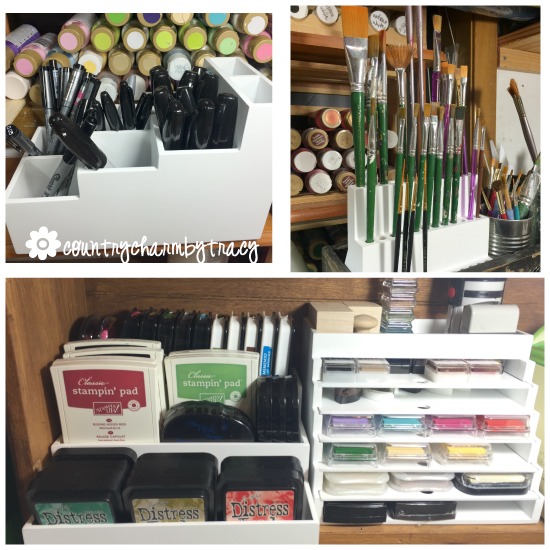 Join in the FREE GET ORGANIZING CHALLENGE CLASS starting September 27, 2016.   It is an 8 week, interactive LiveStream class that Tiffany will be holding.
Register here – http://www.totally-tiffany.com/classes/get-organized-challenge/
Thanks for stopping by!  Have a fantastic day!
~Tracy
Sign up below to be notified when I put a new blog post up. It'll be delivered directly to your email box. 🙂