Hey guys ~ thanks for stopping by the blog to check out my decor for 2016.  Fall is my favorite season to decorate for and am a little sad to see it go.  I put together this video to share how I had my home decorated as well as give you a few tips of what I do to save time and money.  It works for me!
Here are a few pictures ~ to see more check out my video below or click here.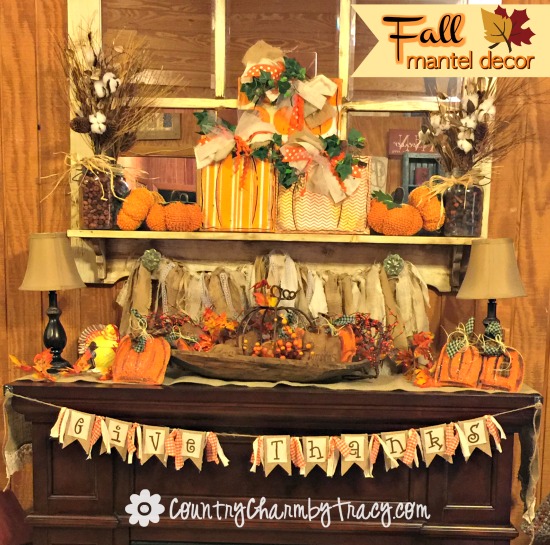 I shared how I made the Give Thanks Banner on my YouTube channel
(click here to see the stp by step by tutorial)
View the blog post here.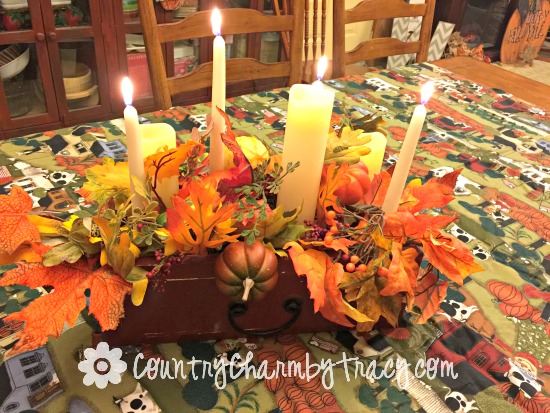 I shared a picture on my Instagram here – and was TOTALLY inspired to make one like it.
Inspiration for Fall Box for table decoration:
http://www.anitafaraboverubies.com/2013/03/17-ways-to-use-long-box-as-centerpiece.html#more
Click here to see the video of how I put this sweet box together.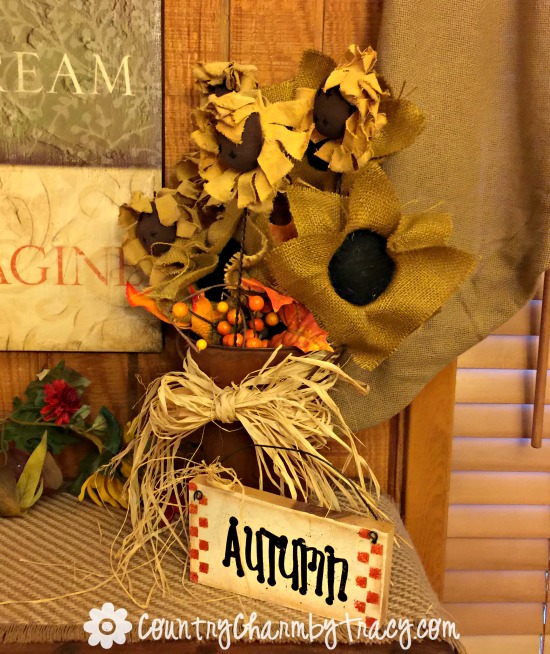 Let me know you were here by leaving a quick comment.
I love reading them and connecting with my viewers.
Hugs and much love,
Tracy
YOUTUBE VIDEOS:
Give Thanks Burlap Banner:
https://youtu.be/4ZcCmVXsQB4
Happy Harvest Deco Mesh Wreath
https://youtu.be/9vRXrmmtQM8
Fall Blocks with Altered Cricut Boxes (recycling project)
https://youtu.be/vzRTGK1Z0FU
BLOG POSTS I refer to in the video:
Painted Burlap Pumpkins:
http://www.countrycharmbytracy.com/painted-burlap-pumpkins-tutorial/
Wooden Pumpkin Candle Holder with Free Pattern:
http://www.countrycharmbytracy.com/wood-pumpkin-candle-holder-with-free-pattern/
Give Thanks Charger Home Decor:
http://www.countrycharmbytracy.com/give-thanks-charger-home-decor/
….and there's even more Thanksgiving love on my blog!
Check out my 2012, 2013, 2014 Thanksgiving Table Decor:
http://www.countrycharmbytracy.com/category/table-decor/
::SOCIAL MEDIA CONNECTIONS::
FACEBOOK: https://www.facebook.com/countrycharmbytracy/
INSTAGRAM: http://www.instagram.com/countrycharmtracy
TWITTER: http://www.twitter.com/tracywellmann
Sign up below to be notified when I put a new blog post up. It'll be delivered directly to your email box. 🙂