Wow – am I excited to share my project with you today.
I'm sharing another recycled cricut cartridge box project and this sweet little guy turned out so adorable.
I've had my cricut for quite a few years and have accumulated many boxes that the cartridges come in.  The older style is made of cardboard and very sturdy.  The newer cartridge boxes are plastic and much smaller in size.
I'm always on the look-out to make cute projects with these boxes just like these fun projects…
Valentine Gift Box,  Santa Face Box,  Faux School Books,  FALL Altered Blocks,  Spice Cabinet Reorganization Project
Introducing…..Mr. Snowman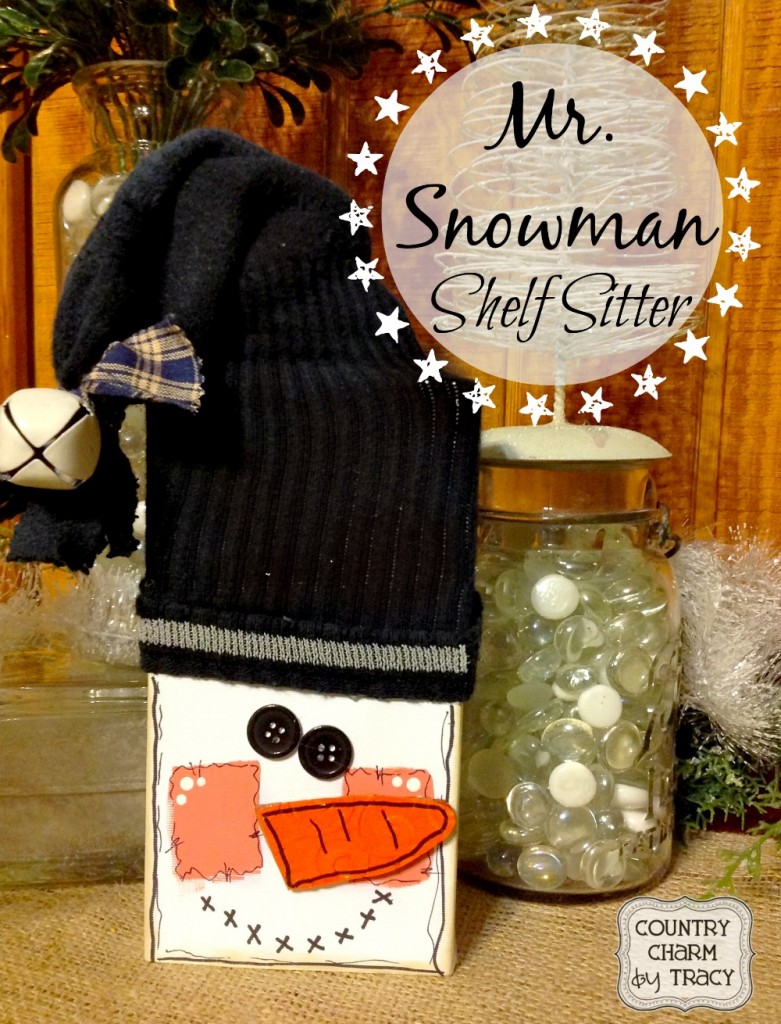 Here are the supplies I used:
empty cricut cartridge box, white & orange cardstock, Tim Holtz Old Paper ink
black sharpie marker, Ceramcoat "Coral" and "White" paint, Scotch ATG gun, cardboard, old black socks,
white jingle bell, black buttons, glue gun, "Divine Swirls" cuttlebug embossing folder, blue/cream homespun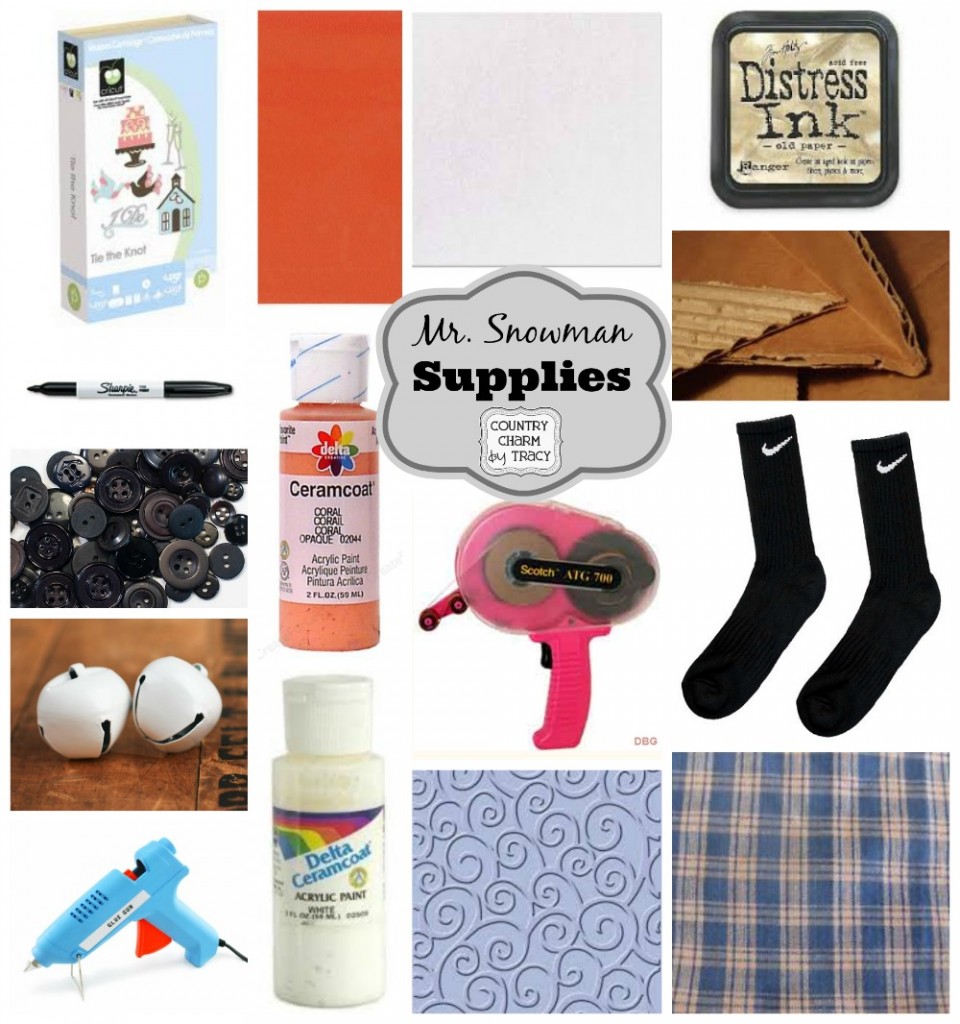 Here is what I did:
1.  Measure 12×12 white cardstock to fit around box.  Trim off excess.  I used my scoring board to help score the paper for the sides.  This really helps in bending (wrapping) the cardstock around box.  Adhere in place with ATG.
2.  Work on nose.  Cut out a nose using orange cardstock and also cardboard.  Emboss orange paper with Divine Swirls cuttlebug folder, make doodles with black marker. Glue onto cardboard cut-out (for dimension).
3.  Ink edges of box with Old Paper ink, doodle with black marker.
4.  Stretch out sock and fit over top about half way down over box.  Roll up a cuff and hot glue in place.
5.  Paint snowman cheeks, glue on eyes (buttons), nose and make mouth with black sharpie marker.
6.  Cut off toes of sock with pinking shear scissors.  Cut up 1/2 strips to add a "fringe" to the sock (hat). Add jingle bell (on a string) to end of sock and then tie on homespun strip.  To add a little "poof" to top of hat (sock) insert a piece of tissue paper.
7.  Glue a few areas of sock in place so that the end of sock doesn't move around.
Find the perfect spot and show off your own Mr. Snowman. 🙂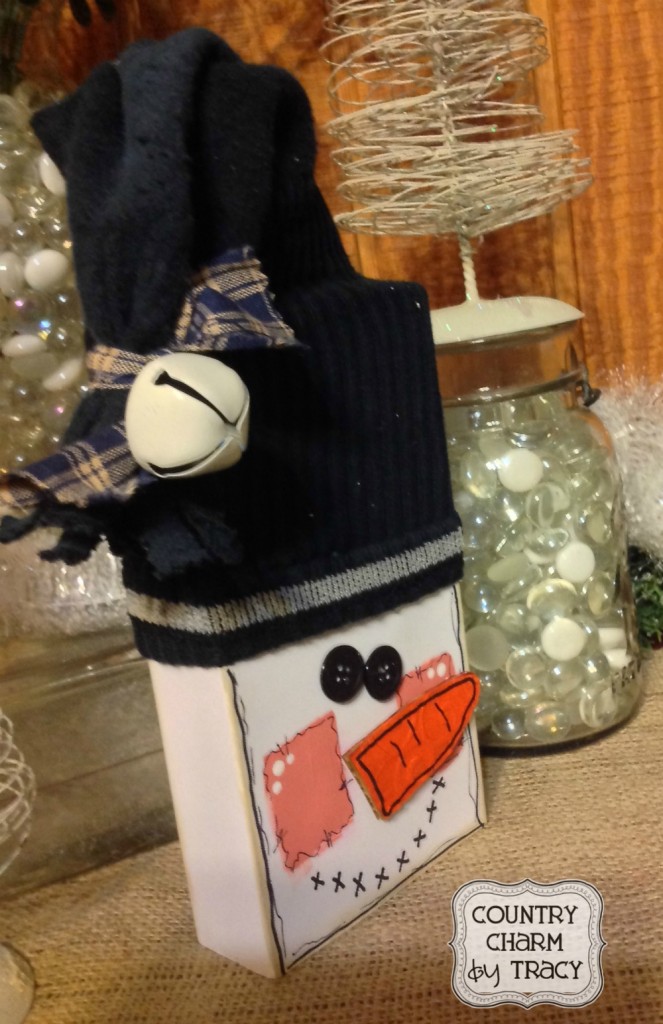 I love finding new ways to recycle and re-purpose items.
I'd love to hear what you think about his little guy?  Leave me a comment here or on my facebook fan page.
The best thing is this little guy won't melt and you can use him for years to come!
Enjoy and have a sweet day!
~Tracy
**************************
Here is some of my previous projects using recycled cricut cartridge boxes.
Click on the picture to be taken to the blog post for the tutorial.
Sharing with some of these fabulous linking parties this week!
Sign up below to be notified when I put a new blog post up. It'll be delivered directly to your email box. 🙂