Here is a layout I completed to capture the memories of my nephew Dylan's 1st Holy Communion.
Cricut Cartridges Used:
It's Your Day ~ George
Dylan ~ All Mixed Up
Family ~ Alphalicious
Wine Cup ~ My World
Vine ~ Zooballoo
Cross ~ Indie Art
The grapes are a circle hole punch.
I am very please at how this layout turned out…..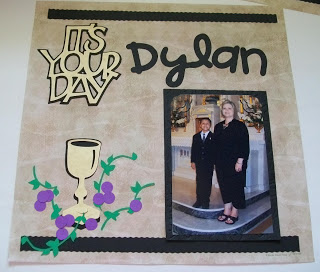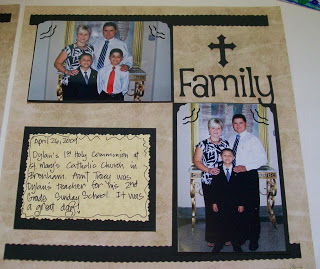 Now, onto the fun eating part….
I am NOT a cake baker but gave this one a shot…and made his cake for his party. Sheeewwww…. it was time consuming and fun to make. On the bottom layer I made it 1/2 chocolate and 1/2 white. On the top layer I baked a 9 x 13″ and using cardstock template I scored the cake with a toothpick and then cut around the cup with a serated knife. I iced it in differnt colors, used skittles for the "jewels". I used fondant for the very first time (name, date, the grapes, vine and leaves) ~ all I can say is someone like it because there was only a very small piece left at the end of the party. HA! Ü
This is actually 3 cakes (2 1/2 if you count the scoring of the cup) ~ this picture is deceiving – this was a big cake. Yummo!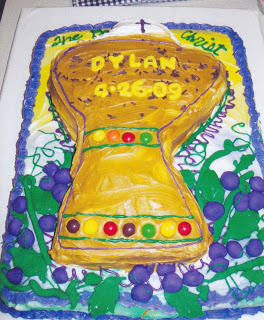 Hugs everyone,
Tracy
Sign up below to be notified when I put a new blog post up. It'll be delivered directly to your email box. 🙂