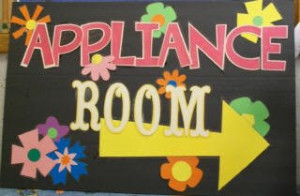 I was asked by a local business to create a fun sign that would let customers know where they can find the Appliance Room as the store recently moved stuff around to accommodate a large shipment of additional furnishings/items. They decided to set up the back room for appliances (washers, dryers, refridgerators, etc.) and wanted to help direct shoppers/customers to that area. So, taaaa daaaaa this is what I came up with. The sign will be hung from the ceiling to direct customers to the right area. I think it turned out a-okay. ? Huh, whatcha think?
I used Cricut Cuttin' Up Cartridge for the "Appliance" letters cut in size 5 – hot pink cartstock and shadowed in white cardstock. Storybook – size 6 for the "Room" letters in white and shadowed in bright yellow. The arrow as hand drawn and cut by hand. I used Walk in My Garden for the flowers in various colors and sizes. I love this cartridge – I am a girlie girl and love flowers. Ü This was the first project I used for WIMG and I will be using it a lot.
Finally, I ran all of the designs through my laminator and glued them to the board. I hope the manager will be happy. It's my sister, so she should be. HA! You can't complain or beat something done for free, right?
Until next time,
Tracy
Sign up below to be notified when I put a new blog post up. It'll be delivered directly to your email box. 🙂