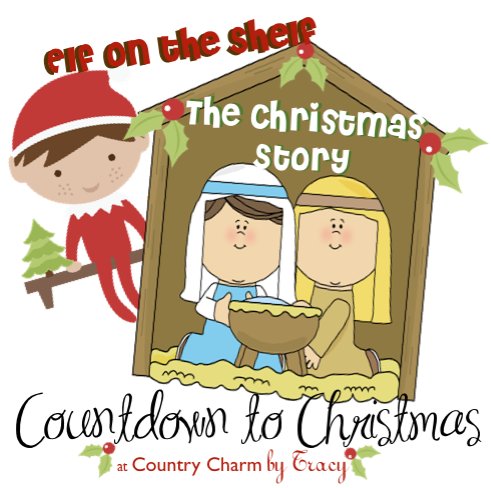 Our Elf on the Shelf, Jack is back for 2013.
Last year was the first time we had Jack and to be honest with you it became a chore to move him around, find something for him to do, (nice of course because I didn't want to give Spencer any ideas) and many nights I would forget ….thus waking up in the middle of the night and/or stressing in the morning to find a new hiding spot.  (sigh) This year I am not doing that and trying something new.  Jack, our elf may be considered boring to some but I want to concentrate on the true meaning of Christmas for my family and not despise this little fella along the way.
There are many ideas, stories, pictures and a ton of ways to have your "elf" surprise your children, family and be a part of something naughty or nice.  Do a google search or look up on Pinterest and you'll surely find something you can use.  I also have a Elf on the Shelf Linky Party you can check out for different ideas and add your own if you would like. 🙂
This year Jack will have his spot in our home and will help Spencer with his Advent calendar as we count down to Christmas.  Each day Jack will leave Spencer a new page for his Christmas Story coloring book as well as a little treat.  Being a first grader in school they are doing quite a bit of poem illustration, drawing and story-telling.
I think this will do a multitude of things for Spencer and our family.
1. He loves to craft so this will give him the chance to make it his "own" book.
2.  It will provide him with extra writing, drawing and reading time. (educational)
3.  It will give him the opportunity to participate in learning and being reminded about the true meaning of Christmas. (not just about presents for him)
4.  Hopefully by the end of this process Spencer will have a Christmas story book that he can keep for years to come.
5.  Oh  yes, it will take the stress off of me to remember to move this little elf, be creative and focus on the message I want Jack to give to Spencer through his visits.
Here is the letter Jack left for Spencer on December 1st.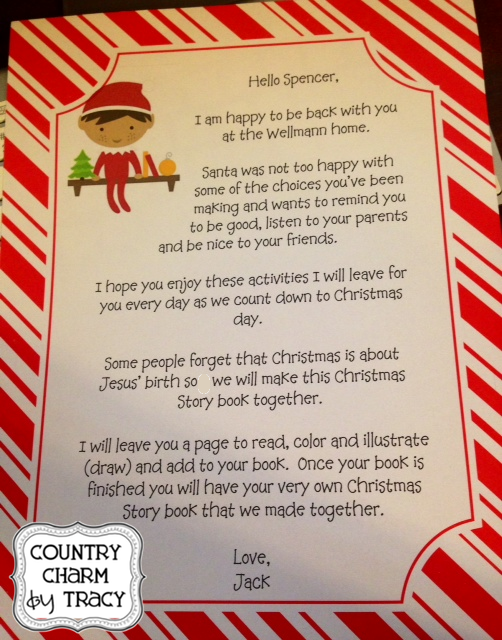 …..along with these two pages to start his book.
updated for 2014 ~
Click here to download the entire book.  Print all pages at one time or select which page you would like to print individually. 🙂
Have fun!
– Tracy
photo credits: Miss Kate's Cuttables (elf & holly) & My Cute Graphics (nativity)
Sign up below to be notified when I put a new blog post up. It'll be delivered directly to your email box. 🙂