We have been enjoying our elf, Jack this year but I do find it challenging to come up with new and exciting things for him to do.  We are sharing The Christmas Story with our little guy and he is enjoying getting a new page everyday to read, illustrate, color and add to his folder.  Once we are finished he will have the completed story from the time the Angel, Gabriel appeared unto Mary through the Three Wise Men worshiping Jesus.
I created this notecard for Jack to leave for Spencer some days to share a special message.  Download it for free below.
The note Jack left for Spencer today is a special message that hits very close to home.  This past Monday some very close friends lost their home to a fire.  Thankfully it was in the middle of the day (and not the night) but it is very tragic and a total loss. Our friends have two little boys, ages 8 and 4 and this was their first year to have their own Elf on the Shelf named Henry.  When the boys were told about the fire their first question was did Henry survive?  Well, thankfully … due to some very creative and fast thinking friends …."Henry" showed up at grandma's house safe and sound hanging on the back of her rocking chair with some bags of new clothes for the boys.  Wow, this is what the true meaning of Christmas is all about.
A tragic event is devastating to anyone of any age but to children who are so young in age losing their home so close to Christmas is even harder.  Tree, presents, memories — all gone.  Will Santa find us, mom?  My heart breaks.
I hope this note brings a little smile to their sad little faces.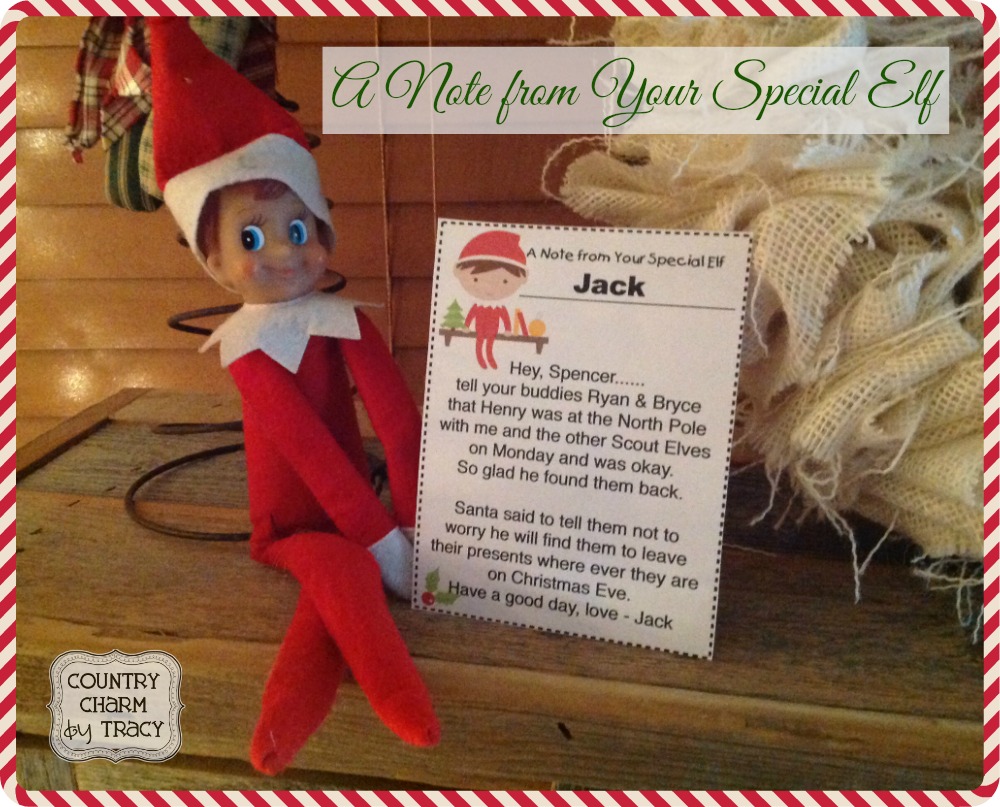 Here is a .pdf format of the note.
If you would like to use it please feel free to for your personal use.
Elf graphics by: Miss Kates Cuttables
Have fun and Merry Christmas!
– Tracy
Sign up below to be notified when I put a new blog post up. It'll be delivered directly to your email box. 🙂