I am one of the party mom's for my toddler's Easter party on Thursday. Me, along with another mom are coordinating the gathering and she offered to do the snacks so I offered to do the candy filled eggs for the egg hunt and the goodie baskets as a party favor for each child to take home at the end of the day. Of course, this was right down my alley and of course I wait until the day before the party to get my stuff to put it all together. I work best under pressure. HA!
I think they turned out CUTE!

I found these pastel colored cups at the dollar store and thought "
that will work for a basket
". I think they are a measuring cup but hey, it works!*&!@# Ü
Anyhoo's, I filled the bucket with goodies including candy, bubbles, a wiggly straw, a bunny pencil, small notebook and a whistle. I also included some side walk chalk in a separate lil' baggie so it wouldn't rub off on the other goodies. I then filled the cup/basket with easter grass and my basket was complete. Simple yes, and expensive too. Thank goodness I only had to do 8.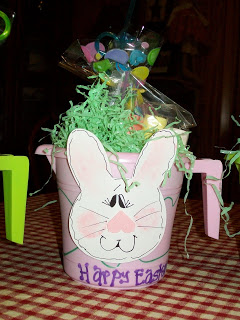 Now for the decorating part around the cup. I was anxious to use my Cricut so I pulled out my Doodlecharms cartridge and cut out the bunny at 4 1/2 inches on white cardstock using the blackout key function. This way I would not get any cuts on my bunny just a smooth clean cut around the bunny shape. His cute nose is a heart punch that I put on a pop dot to give it a little deminsion – cut out of pastel pink cardstock. For his cheeks I just used pink chalk and smoothed out the circles and ears. I then doodled some eyes, eyebrows, wiskers and a mouth with a black sharpie. I am a crafter and do a lot of things free handed. So – none of these 8 bunnies are the same. I then used double stick tape and pop dots to stick the bunny to the bucket. I pulled out my colored sharpie markers and doodled Happy Easter and swiggles around the cup. Taaaa Daaaa…. my Easter Goodie Party Favor Buckets for my toddlers Easter party on Thursday.
Tell me what you think about my project by leaving me a comment. I'd love to know you stopped by.
Sign up below to be notified when I put a new blog post up. It'll be delivered directly to your email box. 🙂