Now I've had my Cricut die cutting machine since 2009 and have cut many shapes out of card stock over the years that I used for projects, cards, scrapbook pages and more.
Any paper crafter knows that you always have those extra pieces of paper, extra cuts that are too small, too big, not the right color or what have you.  So, what to do with them? Throw them in an "extra cuts" drawer and move on.
As I mentioned in my Hello There Friendship Card post here I like to make quick cards that I can get stuff out quickly and go.  I don't have as much time as I used to in creating multi layered cards.  Not that I don't want to – I just don't have the time.
This is what works for me!
This card is made using die cuts created for another project and I didn't use them at that time..  In the "extra cuts drawer" they went just waiting for the right time to be used.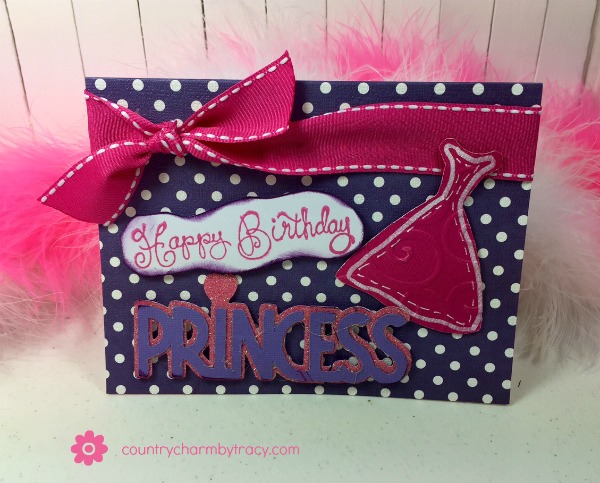 – the purple card base is from the Perfectly Polka box of cards from Hobby Lobby. Read more about my idea of using already made cards here.
– the pink dress is from a project that I did here.
– the word PRINCESS is from a project I did but didn't post a pic (shame on me – oops!)
– the Happy Birthday stamp was out of my stash and I just fussy cut around the edge and then inked for dimension.
– by adding a thick simple pink/white stitched ribbon on the card really ties the whole thing together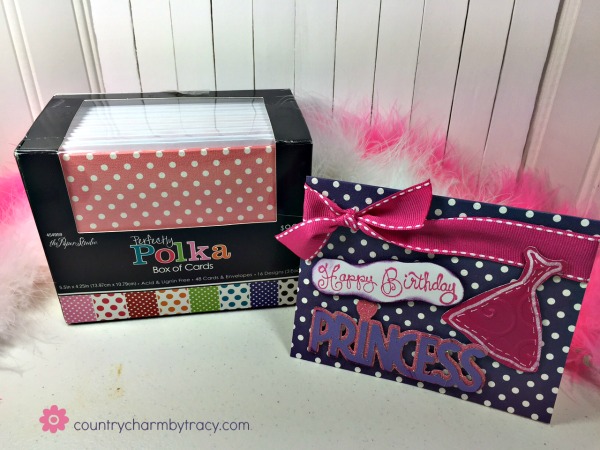 Click here for more CARDs I have created over the years. 🙂
~ Tracy
Sign up below to be notified when I put a new blog post up. It'll be delivered directly to your email box. 🙂