Hi everyone!
Here is some cute 4th of July treats I put together a while back and they are still some of my favorite goodie treats to this day.
You could do this quick treat for family get togethers, kids, grand kids or neighbors too.
I love to use plastic punch cups as the base of treat cups/goodies…and you can "dress" them up for every occassion.  I found the red, white and blue tootsie roll pops at Dollar Tree.
Here are the supplies I used for the treats…..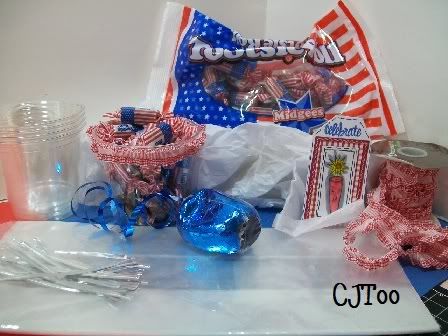 Plastic punch cups – Grocery store or Wal-Mart
Tootsie Roll Pops – Dollar Tree
Clear goodie bags – party section of the grocery store or Wal-Mart
blue curly ribbon
red and white checkered ribbon – Hobby Lobby (attaches and holds best with red sticky tape around edge of cup)
You can fill treat cup with any treat you'd like but be aware of chocolate (which tootsie rolls are) and the heat if you are going to be outside during the upcoming holiday.  Ü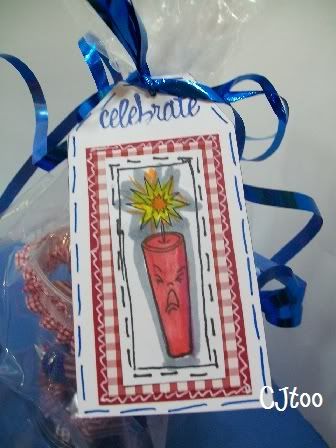 Firecracker Tag:
copic markers for red and grey as well as blending
other markers for doodling and accenting
gingham and red paper for layering.
"celebrate" stamp from my stamp stash.
Now for the adorable card….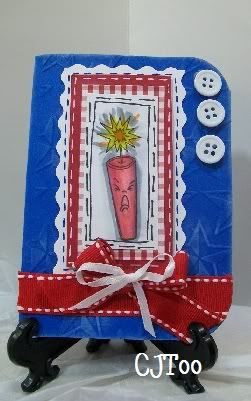 "Stars" cuttlebug embossing folder really makes this card "pop" – white inking adds extra touches.
inside I used 2 stamps from MyPinkStamper – "dino-mite" fun! – click here to find out where you can order those.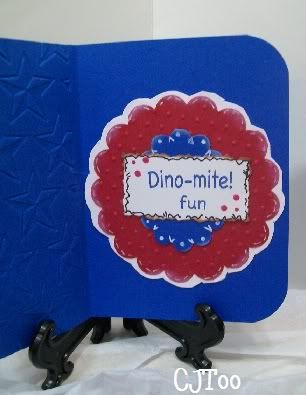 Until next time…..have a super day!
♥Tracy
Sign up below to be notified when I put a new blog post up. It'll be delivered directly to your email box. 🙂